If the only prayer you say in your life is 'thank you', THAT WOULD SUFFICE

Meister Eckhart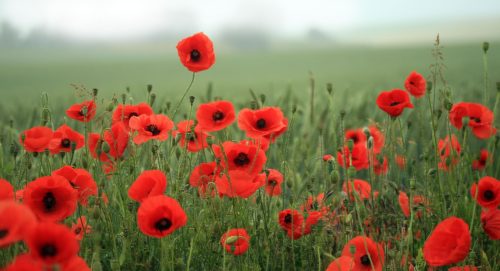 Remembrance Day Service
We will have a Remembrance Day service on Thursday, November 11th at 10:45 AM on Microsoft TEAMs. Our Grade 7/8 students will be leading this service. We will be handing out poppies and appreciate any donations towards our veterans. Here is the link to the liturgy to join us at 10:45 AM
November is Indigenous Awareness Month
Throughout the month of November and during this school year, HCDSB students and staff will acknowledge the contributions and legacy of First Nation, Métis, and Inuit peoples in Canada. We recite the prayer for Honouring the Land and Territory over the PA each morning to show solidarity with the Indigenous people, and will also share some important information for Treaty Recognition Week.
"We acknowledge that St. Vincent is situated on the traditional territory of the Anishinabe the Attawandaron, the Haudenosaunee and the Mississauga of the Credit First Nation. These lands surrounding the Great Lakes are steeped in Indigenous history. We wish to recognize the long history of First Nations and Indigenous peoples in Ontario and show respect to them today."
Dance-a-Thon Fundraising Update
Thank you to everyone for supporting our Read-a-Thon Fundraiser! It was a huge success and we surpassed our goal and raised approximately $13 000! We are truly grateful for the generosity of our parent community as this will benefit our students in continuing to support their learning and achievement.
Our Winners of the Fundraiser are:
Principal for the Day: Charlotte (JK) will be principal for the day. Congratulations and we look forward to you running the school on Friday, Nov 12th!
Second and Third Place Runner Ups: Congratulations to Ben (Gr 1), James (JK), Aaron (Gr 3), Valentina (Gr 5) and Jon Vincent (Gr 7) for winning Indigo gift cards as our 2nd and 3rd top donators!
Special lunch and treats for greatest classroom participation and money raised: Congratulations to Mr. Miguel's Gr 7/8 class for the greatest class participation and Mrs. WIlliams and Mrs. Zarac's kindergarten class for the most money raised! The special lunch and treats will be on Friday, Nov. 12th during lunch.
Congratulations to our winners and once again a huge thank you to all our students for their participation in our fundraiser. Each class raised at least $1000; we are truly blessed to have such wonderful support from our community!
Civvies Days to Support HCCF
The Halton Catholic Children's Foundation (HCCF) supports HCDSB students in need with basic necessities (i.e. food and clothing) & with school activities that have a fee (i.e. team or club fees). This year, our school council has decided that some of the funds raised from our monthly civvies days will go towards supporting this organization (it will be determined at a later time if the funds raised will continue to support this charity or if there is another charity that needs our support). Parents will have the option of donating $20 for the year using school cash online or sending in their child(ren) with a toonie for the day of the event. We will be having 2 civvies days this month, one for pink shirt day during Bullying Awareness and Prevention Week (Nov 15-19), and the principal of the day winner from our Dance-a-Thon fundraiser will choose a civvies day as well (TBA).
Parent-Teacher Interview Communication
Communication with a link and information on how to schedule your interviews using our online system will be emailed to parents on Monday, Nov 8th. Online scheduling opens Wednesday, November 10th and closes Friday, November 19th at 1:00 PM. Any parents who do not select a time and date within that time frame will be given a time by their child's teacher. It is a first come first serve scheduling process so be sure to book in your preferred times early! Interviews will take place on November 25th (evening) and November 26th (daytime) through Microsoft TEAMs. Teachers will be emailing parents a link to their Microsoft TEAMs meeting closer to the interview dates.
Hate Has No Place in Halton
We all have a responsibility to work towards eliminating hate. Through a collaborative approach involving the Halton Regional Police Service and community stakeholders, including the Halton Catholic District School Board, an anti-hate awareness campaign will launch during the 2021-2022 school year. The purpose of this campaign will be:
Bring attention to the topic of eliminating hate motivated incidents
Encourage individuals to act by identifying and reporting hate motivated incidents
Continue to build a sense of community, respect and inclusion within schools.
Encourage students and staff to work collaboratively to eliminate hate within schools and support impacted individuals and families.
Reduce the stigma that is often associated with victims and remove any barriers to reporting hate motivated incidents
Volunteers
In preparation for when we can have volunteers back in our schools, parents need to complete a Volunteer Declaration Offence Form. Criminal Reference Checks / Vulnerable Sector Screening and annual declarations filed in the school since September 2019 are valid. If you currently have a reference check filed at our school, we ask that you complete this online declaration to declare you have had no convictions since 2019. Please note, regular volunteers in the school will need to provide proof of vaccination and pass the daily self-screening tool. If you do not have a criminal reference check on file and would be interested in volunteering at the school, please apply online at: www.haltonpolice.ca.
More information on the protocol for volunteering in our school can be found on our website here.
School Routine Reminders
Please remember that students should come to school with the items (including their lunch and water bottles) that they need for the day as we need to limit our daily contact with visitors. Also, our office is very busy at the beginning and end of the day, we appreciate your co-operation in ensuring our students arrive on time and letting them know what their pick-up schedule is before coming to school. We really appreciate your co-operation in helping with these routines to keep everyone organized and safe!