Remember the past with gratitude, live the present with enthusiasm, look forward to the future with confidence. ~ Saint John Paul II
Friday, June 26th, 2020 marked the last day of the 2019 – 2020 year!  What a year it has been!  Certainly, one to put in our memory books!  Thank you for another wonderful school year at St. Peter CES despite some of the challenges. We appreciated your support and teamwork throughout the school year as it led to many successes. We couldn't have done it without you! We wish all of you a safe, blessed and restful summer vacation and look forward to September.
Congratulations Ms. L. Covey – Primary Team Member! Ms. Covey has made the difficult decision to retire this year after 21 years of service in the St. Peter CES community. We wish you a heartfelt congratulations on your retirement! Your dedication, hard work, enthusiasm for teaching, and genuine love of each and every student is truly inspiring. St. Peter CES is your home, where family and friends reside…please take comfort in the fact that you are always welcome to return to brighten our days. We know that you have new places to go, new stories to live, so on behalf of past and present St. Peter CES staff members and the greater school community, we would all like to wish you well as the next chapter begins! Best wishes for your retirement!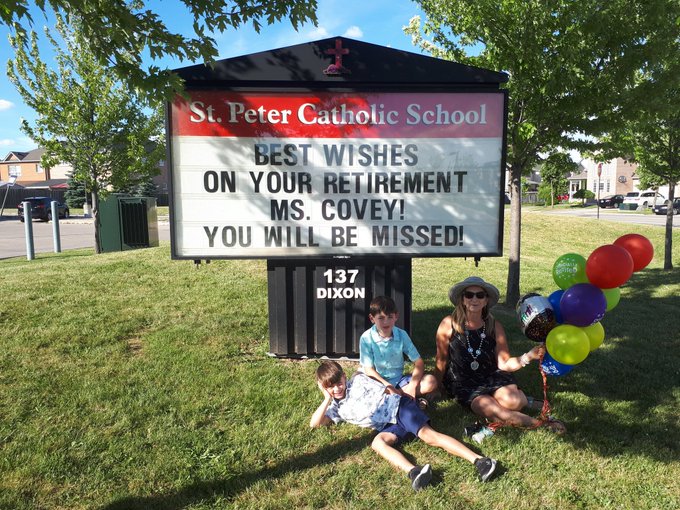 Thank you to our incredible Grade 8 students for sharing your gifts & talents with our community over the last ten years~ please know you will always have a special place in our hearts! We wish you the very best as you begin this next exciting phase of your young lives!
SCHOOL CLOSURE UPDATE – SEPTEMBER 2020
We know all of our families and staff member have many questions about what September will look like. Please know that staff members at central office will be working all summer in preparing plans for our return in September in consultation with Public Health and the Ministry of Education. Please continue to monitor your emails from both the Board Office and our School for up to date information.
SEPTEMBER 2020 OPENING PROCEDURES: Tuesday, September 8th, 2020
Parents are asked to review the procedures for looking up their child's class placement for September.
Please Note: All elementary student class placements will become live on Friday September 4th, 2020. Parents/guardians will need their child's OEN number which can be located at the top of students report card to access their class placement.
Follow these steps to access this information:
Click on school tab-school listing
Click on Elementary school placement
Enter OEN, click search
Your child's name, school year and placement will be displayed
Grade 1 – 8 First Day School Procedures: Grade 1 – 8 students and parents are asked to proceed to the school playground where they will meet their teachers.
Please note, all lists are 'tentative' until final numbers of have been determined in September.
Kindergarten Students will have a staggered entry and DO NOT begin on Tuesday, September 8th, 2020 as the Teachers and ECE's will be taking part in interviews. Year Two (Senior Kindergarten) students begin on Thursday September 10th, 2020. A letter with Year One (Junior Kindergarten) student information was mailed to families this week. 
POSSIBLE LITERACY SUMMER ACTIVITIES
Do you think you can do all 50 of them?
HSTS INFORMATION – Bussing
Help Halton Student Transportation Services plan for September! If your child is eligible for transportation and doesn't plan on riding the bus, please complete our Opt-Out form on http://haltonbus.ca.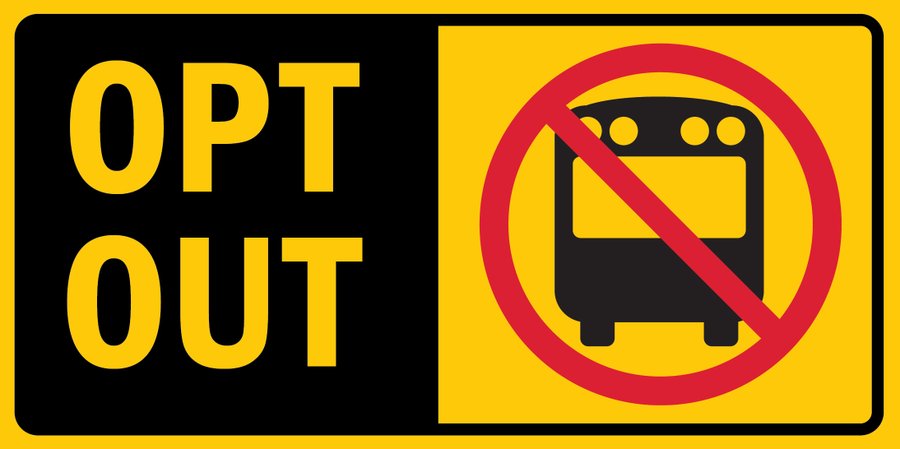 STUDENT INSURANCE
The Halton Catholic District School Board does not provide accident insurance coverage for student injuries that occur on school premises or during school activities. Since accidents can happen, and some injuries result in medical, dental or other expenses that are not covered by provincial health care or employer group plans, as a parent, you may wish to consider purchasing student accident insurance. The insurance agreement is between the parent or guardian and the insurance company. If you wish to subscribe or for more information, please visit: www.insuremykids.com or call 1-800-463-KIDS (5437).
STARR POLLINATOR GARDEN
We are searching for families that would be willing to maintain the 'Starr Pollinator Garden' throughout the summer months once again. Thank you to the Haig Family who has been doing a wonderful job caring for the garden over the last several weeks! If you are interested in sponsoring the garden for a week or two, please email Ms. D. McLaren at McLarenD@hcdsb.org as we are setting up a maintenance schedule before the school year ends.
DONATE YOUR EMPTY BOTTLES TO FOOD4KIDS HALTON!

Food4Kids Halton is a not-for-profit organization that provides healthy food packages for at-risk children who have limited access to food.

From June 22 to July 9th, Food4Kids Halton will be available to collect empty bottles from families in our community. If you have empty bottles (wine, beer, coolers, liquor bottles or cans) Food4Kids Halton will take them! For more information and to find out ways to donate, please visit: www.food4kidshalton.ca
ISW JUNE SALE – Save 10% on your entire purchase
Returning Students – Log into your account to shop for your uniform. Our new chat window lets you connect with one of your uniform experts while you shop!
New Students 3 WAYS TO SHOP:
IN-STORE APPOINTMENT – New families are welcome to book an in-store one-on-one appointment with one of our uniform experts.
VIRTUAL APPOINTMENT – New families are welcome to book an appointment from home via video chat with one of our uniform experts.
ONLINE LIVE CHAT – Our new chat window lets you connect with one of our uniform experts while you shop. ~ https://www.iswuniforms.com/
SHARE YOUR FEEDBACK – ONTARIO'S FRAMEWORK FOR CONTINUED LEARNING
The Ministry of Education has released Ontario's Framework for Continued Learning. Parents and guardians are invited to review this document, and provide feedback through a written submission by email to: EDUconsultation@ontario.ca.

Make sure to:
Include your name, and the name of our school board (Halton Catholic District School Board)
Use "Ontario's Plan to Reopen Schools" in the subject line
Attach your submission as a PDF or Word document
PROMOTING WELL-BEING: How to Salvage Your Summer
1. Take any vacation time you have, gradually.
If you're working from home while you have kids' home, you already know that's an impossible situation. So plan on taking any vacation time you have coming to you as soon as you can. But don't take it all at once. Spread it out so you can work fewer hours each week and really make those vacation days count. For instance, if you have two parents at home and each one takes one day a week as a vacation day, then you only have three days a week when you're both working and have to rely heavily on screens as a babysitter. Four days a week, your kids have one or two parents with them full time, giving them a long weekend of family time.
2. Have a brainstorming session with your family. Make two lists:
Family Fun
Activities for those long weekends, even with physical distancing, that will bring your family closer and be fulfilling for everyone. Depending on the age of your child, be sure to include some more adventurous ideas like family camping trips, creating a water park in your backyard, or working together to make a video about your family.
Daily Activities
What needs to be done daily for to keep your family in good shape, physically and emotionally? Think meal prep, clean-up, Outside time, Special Time, Roughhousing, Family Dance Parties, Reading, Piano practice, etc. Create a daily schedule that includes these activities and stick to it. Research shows that having daily structure makes family life work better and keeps everyone healthier emotionally. Let your kids make themselves a chart with photos of them doing these activities, so they can check them off before they get screen time.
3. Create fun family adventures using three-day weekends.
If you can, get away from home, so you can escape the mess and the to-do list. For instance, get out of your home and into nature for a mini-camping trip. Being in nature is calming for the nervous system, and there's nothing like a campfire for family connection.
The more time children are outside, the healthier and happier they are. It may take kids half an hour to figure out what to do with themselves, but once they do, they'll find the outdoors endlessly interesting. They won't get bored, they won't fight with each other, and they'll sleep better that night. Being outdoors gives you the perfect opportunity to experiment safely with a more "free-range" approach, which fosters independence and resilience in children. Every indicator of physical and mental health will improve for every hour your child spends outside.
If it's not possible to leave your home, then plan a staycation that's different from your regular life. For instance, maybe you'll pitch a tent in your living room, make homemade ice cream, play cards and charades, roast marshmallows on your gas stove, and star-gaze from your apartment building roof. But be sure to ditch screens for the weekend. This is a perfect opportunity to see how rich life can be without them. Even if you can't leave for a weekend, plan on day trips away from home, whether to the lake, a provincial park or a special hike.
4. Put some work into helping your child learn to pursue their passions, aka play or learn independently.
If you're working at home and need to keep your child occupied, don't assume that you have to use screens nonstop. It's possible to help children learn to play independently, even if they aren't used to it — and it's good for them! For tips, here's a whole article on how to do this: Supporting Your Child To Play Independently
5. Focus on what's most important.
This is a hard time. By which I mean that every parent I know is overwhelmed, struggling to balance work while they show up for their kids. Lower your expectations and focus on what matters. Your children don't need a vacation to Disneyworld. They don't even need a trip to the seashore. They just need as much time as they can get outside. Wondering how to keep kids entertained without playgrounds? See my Pinterest board for simple, fun ideas to use in your backyard or at the park. This is something you can manage, and it's enough.
And of course, more than anything, what your child needs is a parent who's calm and emotionally generous. What matters most is YOU. That means that your most important job is to keep yourself centered, so you can stay patient with your child. What do you need to do every day to replenish yourself? That should be at the top of your list.
Then, connect with your child. This does not have to be a big activity and it never has to cost money. Remember, what matters is always how things FEEL, not how things LOOK. Your child doesn't need a Martha Stewart outing; just a loving connection with you. Whether it's running through the sprinkler together on a hot afternoon or counting the stars on a blanket in the backyard before bedtime, what your child will remember from this summer is how you made them feel.
Want to salvage this summer? Do at least one thing every day to connect and have fun with your child. https://www.ahaparenting.com/
Wishing everyone a fantastic summer! ~ the Staff of St. Peter CES