In this Encyclical, I would like to enter into dialogue with all people about our common home   – Pope Francis
We are listening carefully to the call of Pope Francis to focus on the home we share. Laudato Si is Pope Francis' Encyclical on the environment or more formally – On Care for Our Common Home. Laudato Si means "Praise be to you" which is the first line of a canticle by St. Francis that praises God with all of his creation.
We are reminded by Pope Francis that we are stewards of creation charged with the responsibility to nurture and care for the earth and all those who inhabit this planet. With the very real problem of climate change, shortages of clean water and pollution, we can no longer view our consumerism as we have in the past if we hope to leave the planet a wonderful one for our children and the generations to come.
In Catholic schools we consistently examine our past practices and make changes as we come to know more about our world and grow in faith with one another. To this end, everything we do this year at St. Mary will be examined through the lens of our faith as always, however also through the collective consciousness called for in Laudato Si.
We ask you to join with us in answering the call of Pope Francis to live more simply and to think more deeply so that we may truly experience a conversion from 'what I want' to 'how can I serve?'
May God bless your families as we journey together to become increasingly loving and caring as we serve one another in His name.
St. Mary C.E.S. Receives Platinum EcoSchools Certification in 2017-2018, and is Proud to have Participated in the EcoSchools Program for Over 5 years!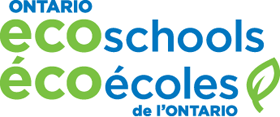 Ontario EcoSchools is an environmental education and certification program (from Kindergarten to Grade 12) that encourages our school community to develop our ecological literacy and reduce our environmental footprint.
The key areas of focus are: Teamwork & Leadership, Energy Conservation, Waste Minimization, School Ground Greening, Curriculum, and Environmental Stewardship. 
Through this program, our students and staff participate in environmental education and practices, developing the knowledge, skills, perspectives, and actions needed to be environmentally responsible citizens.
For more information, please visit: https://www.ontarioecoschools.org/
Energy Conservation & Environmental Stewardship