Happy Father's Day to all our SJPII dads, grandfathers, uncles and father figures! Enjoy your day
.
St. Matthew Parish – From the Pastor's Desk…
Sunday, June 20 is the Twelfth Sunday in Ordinary Time. God's power is on full display in this selection of readings. His ability to order all things according to his will is mighty indeed, but it's the storm that gives us the perspective needed to see that. The stormy periods of our lives, then, are not total losses. If we pay careful attention and allow the Spirit to enlighten us, we notice in them the hand of God reaching out to us, sustaining us, calming the whirlwind. We advance the cause of building trust in the Lord more in times of trial than in those of tranquility; it's a fact. The Christian doesn't hearken to be put to the test, but when we are, we use those experiences to occasion more confidence in the God who loves us.
~ Father Allen Varlaki
Please click on the following link for Parish information and the Parish YouTube channel.
Year-End Liturgy & Assembly
On Tuesday, June 22nd at 9:30am, we will have our year-end liturgy and assembly. Thank you to our Kindergarten classes for putting together our final celebration. We hope you can join us!
Graduation
On Wednesday, June 23rd at 6:00 pm, we will email to all of our Grade 8 families the link to our virtual graduation celebration. Thank you to all of the staff, students and community members who contributed to this special video.
Throughout the day on Thursday June 24th, our Grade 8 graduates will be coming to the school for our curbside diploma pick-up. Parents/Guardians are asked to refer to the schedule that was emailed out by the school last week. If you have any questions, please contact your son/daughter's teacher or the main office.
Pick-up of

Medical & Personal Student Belongings
As per the e-mail communication families received from the board, parents will be able to pick up student medical items and personal belongings on June 28th & 29th. We will have three pick-up points at the school, and staff will be on site should you wish to say good-bye. A schedule will be sent out to all families via a separate email tomorrow.
Return of School Materials & Borrowed Technology
On June 28th & 29th, families are also asked to return all borrowed technology (and chargers) and school materials (ie. library books, text books, etc.) Bins will be setup at three points around the school for you to drop off during school hours.
National

Indigenous History Month
June is National Indigenous History Month in Canada, and the Halton Catholic District School Board (HCDSB) will be celebrating and honouring the history, heritage and diversity of Indigenous peoples in our country, and in our HCDSB community.
National Indigenous History Month is a time for learning about, appreciating and acknowledging the contributions First Nations, Inuit and Métis people have made in shaping Canada. It is also an opportunity to recognize the strength of present-day Indigenous communities.
On June 21st, we will recognize and celebrate National Indigenous Peoples Day. For more information about this special day, refer to the Government of Canada website here.
For more information on Indigenous History Month, and to see what's happening across our board, please visit the HCDSB website.
Gr. 6-8 Literacy & Numeracy Summer School 2021
HCDSB's Thomas Merton Centre for Adult and Continuing Education is pleased to announce that we are currently accepting registrations for Literacy and Math Summer School courses for students in Grades 6-8.

When is Summer School?
Summer school will begin on July 5, 2021 through July 30, 2021, between the hours of 8:00 a.m. and 1:30 p.m.

Please note that due to the current COVID-19 situation, the health and well-being of our students continues to remain our highest priority. Like last year, both session 1 and 2 for the 2021 Summer School courses will be offered in a virtual/remote format.
Some important notes about summer school:
Each day, students will participate in both synchronous (live) and asynchronous (pre-recorded) lessons provided by their instructor.
Students cannot miss more than 3 days within one session, which is a total of 10 days.
It should be noted that participation in summer school is completely voluntary and is not a mandatory component of regular track programming.
Which Courses Will Be Offered This Summer?
For program details, please review the following information sheet: SEE ATTACHED
Register Now!
Online registration is available for our summer programs to help make the registration process more convenient for parents!
You may register your child for one or both sessions by following these instructions:
Click HERE.
Hit 'Sign in' on the top right-hand corner.
Press the green button to 'Create an account' or sign in with your existing account.
Once you have created an account, you will be able to log on with your username/email and password and complete the form.
The online form to register your child is due by Thursday, June 24, 2021 at 11:59 p.m. Late applications will NOT be accepted.
Please be advised that all HCDSB student registration submissions must be approved by your child's home School Principal before students can be officially enrolled in a summer school course.
Student E-mail Accounts and Parent Contact Information
Some important information for students and parents:
We are asking that parents encourage their children to become familiar with their Office 365 and Google accounts (logins and passwords).
Summer students will receive start-up instructions and will be able to access their D2L Brightspace courses through their Office 365 account.
Parents are also encouraged to update their contact information with their child's home school to receive email communications from the Thomas Merton Centre.
Youth Vaccination
Parents/Guardians of students in gr. 6-12, please refer to the attached document from Public Health re: Halton Region's Youth Vaccination program.
HCCF Golf Tournament
Being outside…check! Spending the day at the golf course…check! Helping HCDSB students & families in need…check! Join HCCF for a fun day of fellowship and fundraising!
All to help HCDSB students in need to succeed in school.
As a Catholic Community, we are called by Jesus to care for others. At the Halton Catholic Children's Foundation (HCCF), they strive to do this by providing financial assistance to HCDSB students and their families in need – creating Hope, Dignity and Equity so that students can access learning and education without financial barriers to success.
Students at our school have benefitted from HCCF's financial support in the past. Please consider supporting them so that they can continue to say "Yes" to helping HCDSB students and families with basic necessities (such as food and clothing, school supplies, shoes, eyeglasses, personal hygiene items, and learning technology).
You are invited to support the 10th Annual HCCF Charity Golf Classic on July 20th – Piper's Heath Golf Club. Golfers, sponsors and prizes are needed.
Not a golfer? Please pass this information along to someone who is, or consider making a personal / corporate donation.
For information about the Golf Classic or HCCF visit their website – https://www.hccf.ca/charity-golf-classic/ , or contact Marc Clare, Executive Director, HCCF at clarema@hccf.ca, 905-802-0918.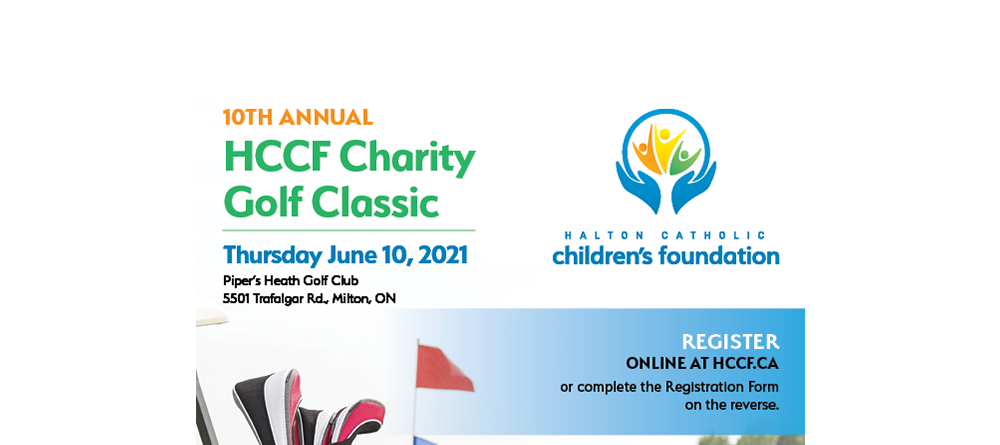 Communication
As office staff will be working remotely whenever possible, secretaries will not always be available to answer school phones. If you need to contact any of our staff please use our email addresses.
Mrs. Pirruccio – Secretary: pirrucciom@hcdsb.org
Mrs. Babic – Vice Principal: babictr@hcdsb.org
Mrs. Choma – Principal: chomac@hcdsb.org
Communication with classroom teachers can continue to take place using previously arranged communication methods. Please note that teachers will be engaged in their virtual classroom during the instructional day and may not be able to respond immediately to inquiries. Please allow 24 hours for them to respond.
HCDSB Help Desk for Remote Learners
Important Upcoming Dates