Every heart that has beat strongly and cheerfully has left a hopeful impulse behind it in the world, and bettered the tradition of mankind.
~Robert Louis Stevenson
Welcome to Catholic Education Week. We take this week to celebrate the wonderful privilege of accessing an educational system that allows us to practice our faith a daily basis. There are lots of exciting events that are happening throughout the week as we demonstrate our ability to act "as joyful disciples." I look forward to seeing you throughout the week in our classrooms, our book fair, at our Volunteer Tea and of course on Thursday in our Walk with Jesus. Please see here for a full calendar of events.
Reminder that Ned's Mindset YoYo's will be on sale all week at lunch hour. Flyers were sent home with pricing last week.
Staff Appreciation at St. John
HCDSB has set aside Friday, May 10th as Staff Appreciation Day. The staff at St. John work tirelessly to make sure that every child feels safe, supported and welcome on a daily basis. I want to thank our School Council, and more specifically Dolene VanderLelie for providing a special staff luncheon.
Safety Notice:
The apartments behind the Acura dealership (South-East Corner Creekside) are undergoing some renovations. Their Condo Board has requested that we inform parents of the safety risks that will be associated with using that land as thoroughfare during the next 12 weeks. Heavy equipment and open sites will pose a safety risk. Students have been informed through announcements to not use the area but if you could kindly reinforce at home it would be greatly appreciated.
ABA Bonanza:
The Special Education Department is excited to announce the ABA for All Bonanza event running for one entire day in our school on Monday, June 10th.  This event will showcase what we do in education to support the use of ABA Methodology, highlighting the collaboration of multiple disciplines (Behaviour Analysts, Itinerants, Child and Youth Counselors, Speech Language Pathologists and Communication Disorder Assistants), and celebrating all the great things already happening in our Board. The ABA Bonanza is an opportunity to learn more about Educational ABA and to help all those who work in education to better understand what educational ABA is, and what is expected in an education context.
Parents in the community are welcome to attend the ABA Bonanza from 2:30 to 3:30 to learn about what we do in education to support the use of ABA Methodology and to celebrate the great things already occurring in our school.
Thank you for your support!
Live Well Family Wellness Expo:
St. John families are invited on May 23rd to the Live Well Family Wellness Expo at Central Highschool. This is a great opportunity for the Burlington Downtown Core Families to get to together and learn about matters that affect their family life and wellbeing.
see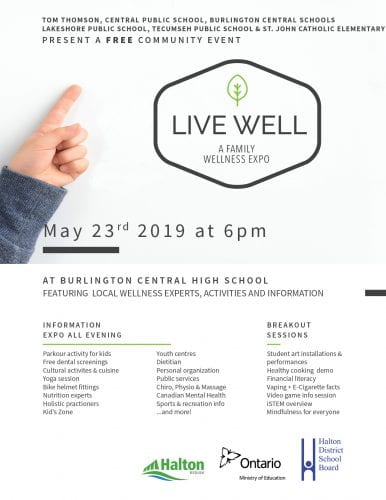 Important Reminders
Friday, May 10th is grade 7 Immunizations
Monday, May 13th is a School Council Meeting at 6:30 in the library. All are welcome to join.
Tuesday, May 14th will be a paid Civvies Day for National Denim Day. A $2 donation will go to "The Cure" in support of breast cancer awareness.
X-Movement has been changed to May 21-24.
Friday, May 24 will be "Dress Loud Day". Students are encouraged to wear their wildest, wackiest, most colourful outfits in support of awareness for students who are Deaf and Hard of Hearing.
EQAO for our grade 3 and 6 students will take place on Monday, May 27 to Thursday, May 30.
Thursday, May 30th is our May Crowning Mass hosted by our grade 1 students. All are welcome to join.
Have a wonderful week!
Please follow us on twitter @stjburlington to see all the amazing things happening at St. John. I am pleased to see our followers growing as we tweet out the learning taking place throughout the school!