To be a mother is a great treasure. Mothers, in their unconditional and sacrificial love for their children, are the antidote to individualism; they are the greatest enemies against war.
~Pope Francis
Happy Mother's Day to all the mother's and grandmother's at St. John. I truly hope all of you are finding the time to be pampered and to relax on this special day!
Thank you to all the parents and grandparents that were able to stop in for Catholic Education Week. Thank you to the staff and students for all their hard work in planning and presenting the events of last week. Your dedication to Catholic Education is amazing. Thank you to Mrs. Tarbutt and Mrs. Barr for planning and executing the Book Fair. It was a huge success! Lastly thank you to all of you who choose to support Catholic Education on a daily basis.
Important Reminders:
Monday, May 13th is a School Council Meeting at 6:30 in the library. All are welcome to join.
Tuesday, May 14th will be a paid Civvies Day for National Denim Day. A $2 donation will go to "The Cure" in support of breast cancer awareness.
X-Movement has been changed to May 21-24.
Friday, May 24 will be "Dress Loud Day". Students are encouraged to wear their wildest, wackiest, most colourful outfits in support of awareness for students who are Deaf and Hard of Hearing.
Thursday, May 30th is our May Crowning Mass hosted by our grade 1 students. All are welcome to join.
EQAO Reminder:
Reminder that all Grade 3 and Grade 6 students in Ontario are expected to participate in the EQAO assessment. Please check that you have not scheduled any appointments or trips for the week of your child's assessment. Grade three and six assessment dates are May 27-29.
Participating students are reminded to get a good night's sleep, wake up a little early so you're not feeling rushed and to eat a healthy breakfast before coming to school. These are important factors in reducing stress and anxiety that can hamper student performance. Thank you in advance for your support.
Save the Date: Spring Fun Fair
Thursday, June 6th will be the St. John Family Fun Fair. The evening will be full of fun and exciting events, which include food for sale, music, games, treats, raffle baskets and the silent auction.
Raffle basket class themes were sent home Friday and your support in donations of items is greatly appreciated. Please see link for list. Spring Fun Fair basket theme letter.
In connection with the silent auction event, we would like to reach out to our parents and extended family members and/or friends, who own businesses, etc. and request that, if you are able, that you kindly donate any items possible for this event.  All funds raised will be donated directly to St. John and your name/business will be recognized with the awarding of the item, as well as on a "Local Business Support" poster at the event.
Parking Lot and Surrounding Streets Safety:
Parents are reminded that both the parking lot and the surrounding streets are busy places before and after school. With the nicer weather lots of students are walking and riding to and from school and it is imperative that extra precautions when driving in the area are taken. When exciting the parking lot onto both Brant Street and Blairholm Ave please make sure that you fully stop and check the sidewalk for pedestrians. Your assistance and diligence are greatly appreciated to ensure the safety of all our students.
ABA Bonanza:
The Special Education Department is excited to announce the ABA for All Bonanza event running for one entire day in our school on Monday, June 10th.  This event will showcase what we do in education to support the use of ABA Methodology, highlighting the collaboration of multiple disciplines (Behaviour Analysts, Itinerants, Child and Youth Counselors, Speech Language Pathologists and Communication Disorder Assistants), and celebrating all the great things already happening in our Board. The ABA Bonanza is an opportunity to learn more about Educational ABA and to help all those who work in education to better understand what educational ABA is, and what is expected in an education context.
Parents in the community are welcome to attend the ABA Bonanza from 2:30 to 3:30 to learn about what we do in education to support the use of ABA Methodology and to celebrate the great things already occurring in our school.
Thank you for your support!
Wellness Fair:
St. John families are invited on May 23rd to the Live Well Family Wellness Expo at Central Highschool. This is a great opportunity for the Burlington Downtown Core Families to get to together and learn about matters that affect their family life and wellbeing.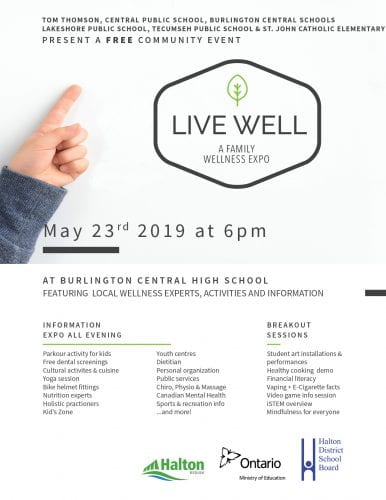 Have a wonderful week!
Please follow us on twitter @stjburlington to see all the amazing things happening at St. John. I am pleased to see our followers growing as we tweet out the learning taking place throughout the school!