The Season of Advent
This weekend we celebrate the arrival of the season of Advent, which also marks the beginning of the liturgical year. Advent is a season of devout and joyful expectation. Its four Sundays highlight our desire and longing for peace, justice and unity. While Advent expresses the deep longing of all humanity for God, it also celebrates the three-fold coming of the Lord by:
Remembering the events that surrounded the Lord's coming long ago;
Celebrating his coming among us today, and;
Looking forward to his final coming in glory;
During the first week of Advent we reflect and pray on the theme of Hope. The hope of Advent is not hope that Jesus will come back into the world at Christmas. Jesus did come into the world, two thousand years ago—God-made-man, Word made flesh, in Bethlehem. This is a historical fact. Hope is rooted in history, but hope is also about our present, and our future. Hope is the knowledge that our lives have meaning—that each day that we live matters, and indeed, that we matter, because we are beloved by God and because he has an eternal plan for our lives.
While Advent is certainly a time of celebration and anticipation of Christ's birth, it is more than that. It is only in the shadow of Advent that the miracle of Christmas can be fully understood and appreciated. The promise for the church is Jesus Christ; he has come, and he will come again. This is the essence of Advent.
COVID-19 Vaccination for Students 5-11 Years Old
First dose COVID-19 vaccination appointments for 5-11 year olds can now be booked through Halton Region's online booking system for children five to 11 years of age (or turning five in 2021). Second doses can be booked at a date closer to the recommended eight week interval. Appointments are dependent on paediatric vaccine supply and will be added to the Region's booking system as supply is confirmed. Please keep checking Halton's website and booking form as more appointments are added.
Appointments are available at the Region's new paediatric child-friendly clinics (similar to a doctor's office) and their four existing community clinics, featuring the Halton Heroes. Appointments are also available at select pharmacies and primary care providers & paediatric offices in Halton. Parents can decide which setting is best for their child, based on age and other personal factors. Information to assist with the decision is available on halton.ca/COVIDvaccines4kids.
Holy Cross Parish Update
An update from Fr. Dave at Holy Cross Parish:
Holy Cross Parish welcomes all families to the Family of Schools Advent Mass on Thursday, December 9, 2021 beginning at 7:00pm.
Families who wish to participate in the Sacrament of Reconciliation, Holy Cross Church will be having the parish Advent Day of Penance on Saturday, December 11, 2021 from 10:00am to 2:00om. A number of priests will be available in the church to hear confessions during this time.
Christmas Mass Times: Christmas Eve – 4:00pm, 6:00pm, 8:00pm, 10:00pm, 12:00am; Christmas Day– 9:00am, 10:30am, 12:00pm. Online services will also be available via the parish Facebook and Youtube channels.
The parish is currently registering grade 2 and 7 students to celebrate the Sacraments of Reconciliation and Eucharist (grade 2) and Confirmation (grade 7). The plan is to begin with First Reconciliations in February, with First Eucharist and Confirmations in April/May following Easter.
Food / Personal Hygiene Product / Gift Card Drive
During the week of December 6-10, 2021 our school will be collecting donations of non-perishable food items (no glass please!) and personal hygiene items such as toothbrushes, toothpaste, soap, shampoo/conditioner, and deodorant/anti-perspirant to support the Georgetown Bread Basket.
Families are also welcome to donate a gift card to a local supermarket or store (e.g. Walmart, Superstore, Food Basics, etc.) which will also be donated to the Georgetown Bread Basket.
Your consideration is appreciated.
Winter Clothing Reminders
Families are reminded of the following winter dress expectations of our school. For children in Kindergarten, full winter wear including boots, snow pants, etc. should be brought to school at all times. For children in grades 1 through 8, full winter wear is also recommended, however, all students are expected to have winter boots at school as our recess, lunch and outdoor learning periods take place on our school field. Your support ensuring that your child is able to participate fully in all aspects of the school day is appreciated.
Christmas Spirit Week
The week of December 13-17, 2021 is the final week prior to Christmas Break beginning and will be a spirit week for our school. While not mandatory, all students and staff members are encouraged to participate as actively as possible.
Monday – Dress up as Santa, an Elf or one of his helpers
Tuesday – Christmas accessories day (Hats, socks, necklaces, headbands, etc.)
Wednesday – Wear your favourite winter toque
Thursday – Red and green day
Friday – Christmas sweater day
No pajamas please!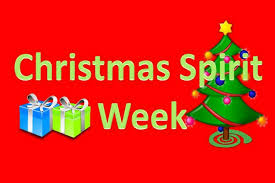 Save the date! Our staff members are also planning a special surprise Christmas event for our families during the evening on December 14, 2021 from 6:00pm to 8:00pm. Details will be shared next week!
Upcoming School Calendar