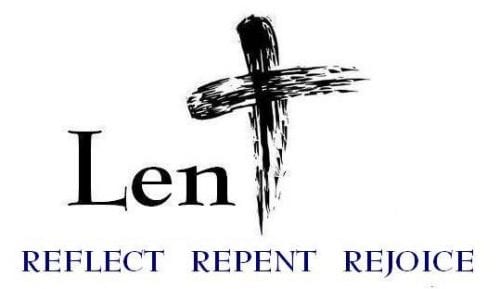 Next week, we welcome Fr. David Walter to our school as we enter into the Season of Lent during our celebration of Ash Wednesday on Wednesday, March 6, 2019 beginning at 2:00pm.  All school community members are welcome to join us.
Ash Wednesday is a day of universal fasting and abstaining from meat.  All Catholics, in good health, between the ages of 14 and 60 are required to fast from food. Catholics, regardless of age, are obligated to abstain from meat on Ash Wednesday.  The reason for our fasting is to grow in hunger for God.  Fasting can mean simply taking less food at our daily meals.
The ashes in our celebration come from the palm branches used last year for Palm Sunday. These branches are collected and burned down so that only the ashes remain. The mark of ashes on our foreheads reminds us that we are called to turn away from sin and commit ourselves to the Gospel.
The Season of Lent is a period of 40 days (not counting the Sundays of Lent) ending on Holy Thursday. It mirrors the 40 days Jesus spent in the desert before starting his public ministry. Today, the Church spends these 40 days of Lent in prayer, fasting, and works of charity to prepare for the joy of the Lord's resurrection from the dead on Easter Sunday.
---
Some updates for next week:
Our Chocolate Fundraising Program has ended, we now need to complete the process of accounting for all of the boxes that were sent out to our families as the unsold boxes of chocolate will be picked up by the vendor on Monday, March 4, 2019.  Thank you to all the families who have sold their box of chocolates, made a donation online, and even asked for a second (or third!) box of chocolates.  A few reminders about our chocolate sales:
Please ensure that your family has submitted the $90 payment for your box of chocolates via School Cash Online.  To date, we have accounted for approximately 220 boxes of the 250 that were distributed to our school community.   A letter was sent home on Thursday, February 28, 2019 to all families whose box has not yet been accounted for.  We are accounting for each distributed box by:

Payment of $90 received via School Cash Online
Donation of $40 received via School Cash Online with unopened box of chocolates returned, or
Opt out form (along with unopened box of chocolates) returned to the school;

Please understand that the school is accountable financially for each distributed box.  Therefore, if you do not submit the $90 payment for the value of the box, or return the unopened box of chocolates to school, then the $90 value will need to be subtracted from the profit of our fundraiser.  Your understanding is appreciated;
School Cash Online is the preferred method of payment and / or donation.  Families are asked to keep the cash that they receive for their chocolate sales, and submit payment electronically via School Cash Online;
---
With support from our Catholic School Council, our school will celebrate Shrove Tuesday on March 5, 2019 by offering a pancake along with a juice box to each of our students.  The pancake mix that will be used is Aunt Jemima Complete, students will have the option of adding Aunt Jemima syrup to their pancake also.  An information link to the ingredients of this mix can be found here:  Aunt Jemima Complete.  A image of the ingredient list has also been provided below.  If you have any questions or concerns, or do not wish you child to participate in our Shrove Tuesday celebration, please contact your child's teacher;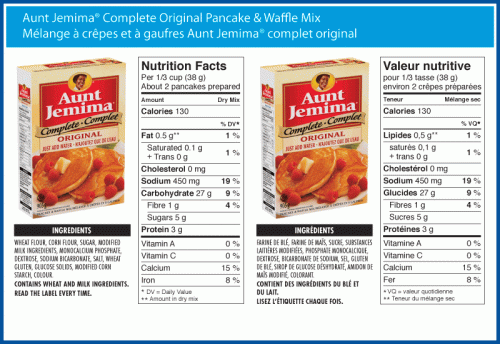 ---
Term 1 Report Cards for all students K-8 were sent home on Wednesday, February 20, 2019.  We encourage you to use these as an opportunity to have conversations with your children about their learning and interests. We are very proud of the many accomplishments of all of our students. Please enjoy celebrating your child's accomplishments this term and help them plan some new learning goals for Term 2.  You are kindly asked to sign the parent response form and return it to the school with the report card envelope;
---
As parents/guardians you have many responsibilities towards your child. One responsibility is to ensure that your child is in school every day, ready to learn. In fact, it is the  law. The Provincial Education Act states that every child between the ages of 6 and 18 years is required to attend school every day from the first school day in September until the last school day in June.
Kindergarten is not mandatory for children to attend in Ontario.  However, the expectations of our school is that our kindergarten students are also attending school regularly.  Parents/guardians make the decision to enroll your child in the kindergarten program.  Therefore, families are responsible for ensuring that your child is meeting the attendance expectations of the school.
You can learn more about our school and board's policies regarding attendance here:  Attendance Matters;
---
We recognize that the Halton Student Transportation Services (HSTS) has recently experienced several bus arrival delays.  HSTS has informed the school that bus operators will post a route delayed that is greater than ten minutes as soon as they are made aware that the bus is running late.  In most instances, the delayed route is posted prior to start time of the route. However circumstances may arise at the last minute after the driver has already started the route, such as traffic congestion, road conditions or a mechanical breakdown, which cannot be predicted.  We encourage all parents to sign up for an email subscription so that you can receive updates about school bus delays here:  https://geoquery.haltonbus.ca/Subscriptions/Login.aspx  Concerns about student transportation should continue to be directed to HSTS at https://www.haltonbus.ca/about/contact-us/
---
The Halton Catholic Children's Education Foundation Wants to Hear from You!  The Halton Catholic Children's Education Foundation (HCCEF) is charitable organization that supports students and families in need across the Halton Catholic District School Board (HCDSB). HCCEF is currently seeking input from all members of the HCDSB community.
Please take a few minutes to share your feedback through this brief online survey here:  HCCEF Survey
---
Best wishes and God's blessings to Ms. Haddad as she began her retirement on Thursday, February 28, 2019.  We welcome Mr. Tennier to our school in Ms. Haddad's place for the remainder of the year;
---
Congratulations to Dylan W. who will represent our school at the Regional Public Speaking Competition on March 20, 2019;
---
March Break begins on Monday, March 11, 2019;
---
Our detailed event calendar for the upcoming week: