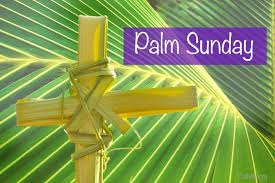 With the celebration of Palm Sunday, we enter into the most sacred time of our liturgical calendar. For three full days, from Holy Thursday evening to Easter Sunday night, the Church celebrates the Paschal Mystery of Jesus Christ. On Holy Thursday, we celebrate the institution of the sacraments of the Eucharist and the Priesthood. On Good Friday, we enter into the Passion of Our Lord, and on Easter Sunday we celebrate His Resurrection and thus our salvation. Below, please find Holy Rosary Parish schedule for Holy Week. 
Holy Rosary Parish Holy Week Schedule: 
Holy Thursday
Mass of the Lord's Supper
April 18, 2019 – 8:00 pm
Adoration of the Blessed Sacrament in the Chapel, after Mass, until 11pm
Good Friday
Solemn Liturgy 
of the Lord's Passion
April 19, 2019 – 11:00 am & 3:00 pm
Children's Passion Celebration Parish Hall – 11:00 am
Holy Saturday
April 20, 2019 – 9:00 am
Blessing of the Easter Foods
Easter Vigil 
April 20, 2019 – 8:00 pm
Service of Light, Baptism and Reception of
New Catholics, Renewal of Baptismal Promises
Easter Sunday
April 21, 2019
The Resurrection of Our Lord
*Please note the time changes of 
the Masses:
Sunday 
8:00 am, 10:00 am, 12:00 pm
and 1:30 pm
Congratulations to the Girl's Basketball Team for winning the HCDSB system gold medal. We are proud of you all!!
Thanks to Mr. Zielke and Mr. Mahaney for your continued leadership.
Reminders:
Anaphylaxis: Please be reminded that we have a number of students with peanut allergies. Ensure students are bringing nut-free snacks, and please remind your children to not share snacks with others.
Soaring Eagles Prizes: When students are observed following one of the Catholic Graduate Expectations they are given a Soaring Eagle slip to enter into a monthly draw. Students from each division are chosen monthly to receive a prize. The committee is accepting small prizes ($5.00 or less) to put into our 'treasure chest' of prizes. If you have any new items that you would like to donate, please send into school with your child.
Yearbook: The yearbook is now for sale on School Cash On-line for $18.00. Orders will be accepted until April 29th. The committee is also accepting original artwork for the cover until Thursday April 18th.
Design ideas are:
school name and year 2018-2019
incorporate Catholicity
include school mascot/symbols
be neatly coloured and designed
include the school motto: "Rooted in faith and knowledge, we dedicate our lives to Christ"
extra curricular activities
May 1 – 2: Used Bike Drive
If your son or daughter has outgrown their bike and you're not sure what to do with the old bike you can donate it to a child in need. The bikes will be donated to New Hope Community Bikes which services the GTHA. Even if the bike is broken, they can repair it. Bikes can be dropped off at the front of the school.
Catholic Education Week BBQ: May 9th 5:00 – 8:00 PM
BBQ food will be prepared by Knights of Columbus
Hamburger, Hot Dog or Veggie Burger combos available on School Cash On-line for $6.25 per person. Orders close May 2.
BBQ Serving time: 5:00 – 7:00 p.m.
Classrooms are open: 5:00 – 6:30 p.m.
Arts night featuring the SAOP choir, Glee Club, Band, and intermediate arts: 6:30 – 8:00 p.m.
This Week's Activities:
Thursday April 18th: Stations of the Cross led by Grade Sevens
11:15 (grades 1-4)
1:30 (grades 5-8)
Friday April 19th: Good Friday (no school)
Sunday April 21st: Easter Sunday
Monday April 22nd: Easter Monday (no school)
Tuesday April 23rd: Civvies Day – Wear Green and Blue for Earth Day
Please refer to the calendar for all upcoming events: 
Your partners in Catholic Education,
K. Cascone-Brown,   L. MacLennan,   D. Owens