Prepare the way of the Lord
Loving God,
as we wait in joyful anticipation for the birth of the Saviour,
help us to prepare well.
Open our hearts and our minds to be willing to embrace whatever changes we need to make in ourselves.
As we light the second candle on our advent wreath, bless us with a renewed sense of longing and hope in you.
We ask this in your most holy name.
Amen.
2nd Sunday of Advent
This year, during the Season of Advent we are challenged to look forward with optimism and the spirit of hope. In this week's gospel John the Baptist reminds us God has not forgotten us. Jesus is coming and he is a light for the world. As we light the second candle on our advent wreaths, let us all be guided closer to God through prayer, reconciliation and giving to those in need.
Family Action:
Consider taking action in one or two ways to breathe new life into preparing for Christmas at home:
Reminder: Use of Face Masks
As per the HCDSB Return to School Parent Guide
Students are to wear non-medical grade or cloth masks while indoors and riding buses.
Students are encouraged to bring TWO masks to school along with a storage bag/container.
It is suggested that students replace their mask with a new one after eating their lunch and store their soiled mask to take home for cleaning.
Please remember that the mask offers your child the best protection when:
It fits snuggly over the nose and chin and is not drooping below the nose.
It is washed daily. Moisture and bacteria build up on the mask with saliva from talking and sweat from the face.
Each evening, engage your child in learning how to hand wash their masks with soap and warm water. Hang to dray and re-use the next day.
Community Engagement Event – Holiday Baking Together Apart!
Back by popular demand, we have partnered with Cooksmart once again to bring the St. Andrew Community together virtually through another online Holiday Baking Event!
Families can register online to join the event. Together, following the direction of our virtual host, Kathy Stewart, we will all bake sugar cookies from the comfort of our own homes! Kathy will provide us with an easy-to-find list of ingredients in advance of our baking day. Then, on December 12th, from 3:30-5:30 PM we will all bake together via Zoom!
This event is being funded by our School Council, there is no cost to join other than the price of the ingredients. Space is limited, so register right away!
To register, please go to: cooksmart.ca/upcoming-classes/standrew
For more information see the flyer here: St.-Andrews-Holiday-BakingDownload
St. Vincent de Paul Angel Tree
The number of angels on our Angel Tree is growing! This Christmas more than ever our most vulnerable neighbours are in need. Together we can make a big difference by sharing our Christmas to bring some joy into their homes. For many of these families, your donation may be the only gift they receive.
We are asking the students and families to support these neighbours by:
Donating Online through CanadaHelps:
• https://www.canadahelps.org/en/charities/society-of-st-vincent-de-paul-mary-mother-of-god-parish/
• Monetary donations will be used to bulk purchase Wal-Mart gift cards for the families.
• Please consider the following gifts:
Colour your Angel for the Angel Tree: Have your child colour it and bring it to school to put on the Angel Christmas Tree that is on display in the lobby.
Pray: Please add a special daily prayer of protection for all of the families SSVP serves.
Mary Mother of God, be their protector and defender. Bring their needs before our Father and give them the grace to conquer every danger and overcome all that would threaten their health and well-being. Amen.
The SSVP donations will be gratefully received from Monday, November 22nd to Friday, December 10th.
The generous support of our school communities allows us to ensure that the families can all enjoy a special day and meal on Christmas day. For more information, please visit the SSVP webpage on the church website:(https://mmogp.ca/society-of-st-vincent-de-paul).
Sincerely Yours,
Society of Saint Vincent de Paul (SSVP), Mary Mother of God Parish
St. Andrew Food Drive
Our Student Council is running a food drive to collect non-perishable items including toiletries for the Young Street Mission of Toronto. If you have items to share, please consider having your children bring them to school this week.
Picture Retakes December 14th
If your child missed picture day, or you would like to have the photos retaken, there will be an opportunity for photo retakes on Tuesday, December 14th in the morning.
Parish News
SAVE THE DATES!
Mary Mother of God Church is hosting four wonderful events for families during Advent and Christmas that you don't want to miss!
1. THE PEACE LIGHT FROM BETHLEHEM: The Peace Light, which was lit from the grotto where Jesus was born in Bethlehem, will be burning at MMoG throughout Advent. Families will be welcome after all of the Masses the weekend of December 18 and 19 to receive a candle with Peace Light and bring it home for Christmas.
2. GRANDPARENTS MASS: Our December Mass with Grandparents is back on December 9th at 7:00 pm. Children and their grandparents are invited to attend Mass together. They will each receive candles with the Peace Light to bring home and share with others. We also invite attendees to send us their favorite photo with their grandparents to be displayed on our screens during Mass. Seating is limited. Eventbrite tickets are required. https://www.eventbrite.ca/e/advent-mass-with-grandparents-and-receive-the-peacelight-from-bethlehem-tickets-204735668897
3. BLESSING OF BABY JESUS: Bring baby Jesus from your nativity scene at home and Fr. Jerry will bless him before you put him in the manger of Christmas Eve. The blessing will take place during all Masses on December 18 and 19.
4. CHRISTMAS EVE MASS FOR KIDS: 5:00 pm on Christmas Eve, we invite all children to be a part of our Christmas procession. Dress up as your favorite character from the nativity (an angel, a shepherd, St. Joseph, etc.). You will process into the church with Father Jerry and surround the manger scene on the altar while Father Jerry blesses it. This is our most popular Mass of the year. Eventbrite tickets will be available on Nov. 25, so set an alarm to get your tickets by visiting www.mmogp.ca.
All Covid safety protocols including masks and social distancing are in place. For more information email Debbie Frey at youth.mmogp@bellnet.ca. Also, visit the parish website at www.mmogp.ca for our Christmas Mass schedule.
Vacation Requests
We know that families may be eager to travel and visit family. While we certainly understand, please note that you will need to complete an Extended Absence Form (available from the office) and that any absence longer than 15 consecutive days may result in your child being demitted from our register and having to re-enroll upon your return.
Families should also consider any quarantine requirements when planning for their children to be absent from school.
While educators are happy to help support student learning, please note that they are not required to provide your child with work for the length of the absence.
Family Paint Night
Indigenous Artist, Moses Lunham, will be hosting another HCDSB Family Paint Night on YouTube LIVE on Tuesday, December 7th from 6PM – 8PM. Visit https://www.youtube.com/c/grandmothersvoice for more details. Many of our students loved painting with him along with their classes this month as they learned about treaties. You can also paint along with Moses in the comfort of your own homes!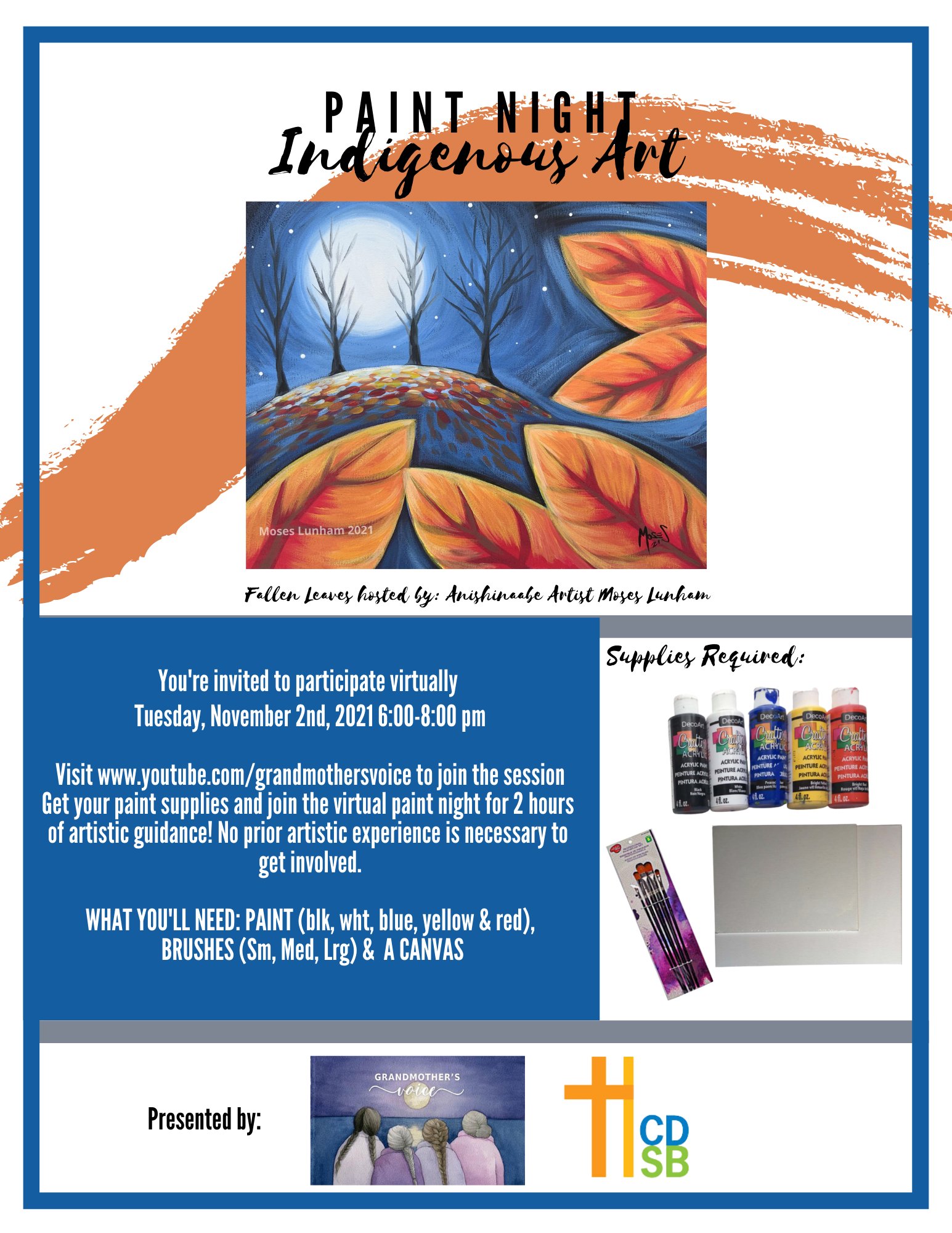 Safety Reminders
Please do not drive your vehicle into the front school driveway during morning drop-off or afternoon pick-up. This driveway is dedicated to busses only, and it becomes a safety issue when other vehicles are maneuvering in and out between the busses.
Late Students: With the colder weather, we have had many students arriving late at the school each morning. Please allow enough time to drive or walk to school to ensure that your children are arriving prior to the bell.
Coming Up
Dec
12
Sun
Holiday Virtual Baking Event
Dec 12 @ 3:30 pm – 5:30 pm
We will be baking Christmas sugar cookies together! This will be a virtual Zoom Event. There is no cost other than the purchase of your ingredients. There is a limit to how many people can join the event – first come, first serve. Please click here to register your family: cooksmart.ca/upcoming-classes/standrew