Dear HRM Parents and Guardians,
Thank you to all the families for providing staff with their "Staff Appreciation Luncheon".
Thank you to all the staff for their hard work and dedication in preparation for our Grade 8 Grad.
Thank you to staff especially Mr. T and his team for all their help in packing students' belongings.
Thank you to all staff and students who participated in Halton Hills Skills.
Thank you to staff who organized various author visits and virtual trips.
Thank you to the all the staff who organized our HRM Virtual Play Day and HRM Virtual Talent Show- We appreciate your creativity and time.
Thank you to The kindergarten staff and students along with Ms. Ventura and her students for facilitating the end of the year Liturgy.
Thomas Merton Grade6-8 Summer School Program: This program is back and is intended for students who have completed Grades6-8. Please use the link in the poster to register- no applications will be accepted after June 24.
Students' Belongings Pick-Up and Return of Technology and School Resources: Please read email sent by Ms. Murad on Friday June 18 regarding procedure and for an opportunity to book a time for your family. Any belongings that are not picked up will be disposed of. All School technology and resources must be returned by Tuesday June 29th.
Multi-Year Strategic Plan Survey- Year5: We value your feedback! Please take a few minutes to complete the HCDSB Strategic Plan Monitoring Survey: http://bit.ly/StratPlanSurvey2021 . The survey will be open from June 9th until June 23 rd. Results will be used by senior staff to help evaluate our progress in meeting the goals of our Strategic Plan "Focus on Our Students: Strategic Plan 2016-2021" and will be included in the "Directors Report to Trustees – Year 5 of Implementation" in the fall. The survey is completely anonymous, and all data will be stored and protected by Research & Development Services. Questions about the survey can be directed to research@hcdsb.org.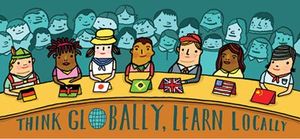 International and Indigenous Languages Elementary Registration is Now Available: The International and Indigenous Languages Elementary Program creates new and exciting opportunities for our students to learn and engage with language and culture through diverse programming. Students will be given opportunities to develop and maintain their ability to engage with a familiar language from home or a new one entirely. As our students explore various language activities and learning tasks, they will be immersed in the heritage and culture of that language through the discovery of new traditions, foods, clothing, and art.
Summer IILE Program: July 5 – 30, 2021, 9:00 – 11:30 a.m. The deadline to register for the IILE Summer Program is Wednesday, June 23, 2021.
School Year (Fall) IILE Program: Friday Classes: September 17, 2021-June10, 2022: 6:00pm-8:30pm, Saturday Classes: September 18-June11, 2022: 9:00am-11:30am. Registration for the IILE School Year (Fall) Program is ongoing, and will close on Friday, January 14th, 2022. *Please note that as of right now, the IILE School Year (Fall) Program will be offered in a virtual/remote format. We will follow up with more information if this changes over the summer months.
Promoting Well-Being: 10 Summer Safety Tips for Kids- Make summer smart with these tips to keep children healthy and happy:https://www.childrens.com/health-wellness/10-summer-safety-tips-for-kids
Follow us on Twitter @HolyRosaryM- 1056 followers & Counting!
Wishing you a great weekend – the Staff of Holy Rosary-Milton CES