November is Indigenous Awareness Month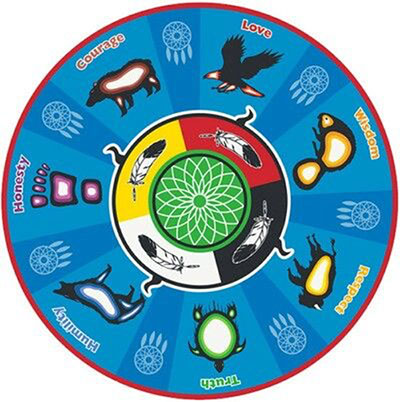 The 7 Grandfather Teachings
Yesterday, we featured the teachings of Wisdom and Humility. Today's teaching is Love.
---
Yesterday'sQuizzle: (From Will in Mrs. Noventa's Grade 8 Class)
(You need to know a little french for this one… ask our French teachers for a hint. They are Mlle. Habashy, Mme. Filice and Mme Stewart.)
Why don't french people eat 2 eggs?
Answer: Because one egg is un oeuf!
(When you pronounce the word egg in French it sounds like the word "enough"!) Get it? One egg is enough!
Today's Quizzle: (From Lucas in Mrs. Mills' Grade 8 Class)
Which creature walks on four legs in the morning two legs in the afternoon and three legs in the evening?
Just a note about Quizzles – Keep those riddles coming! While jokes are fun, they aren't riddles…
---
From Mrs. Johnston in the Library…
Check out this new book!
Picture Book: The World Needs More Purple People by Kristin Bell and Benjamin Hart, 
Illustrations by Daniel Wiseman
Student Announcements:
The next iDARE meeting will be on Monday, November 29th on the stage. There is no meeting today. Students are allowed to wear their iDARE t-shirts on Wednesdays and other meeting days.
---
Grade 8 students are allowed to wear their St. Kateri Hoodies today!
---
Get ready to say "Cheese!"
Students are asked to line up in alphabetical order by last name when they come down by class to get their pictures taken. Pictures will be taken on the stage -1 class at a time. Please be prompt or even slightly ahead of schedule for your pictures as the photographers anticipate taking less than 15 min/class.
---
The Wellness Team is asked to meet Mrs. Plati today in the Library at lunch.
Staff Announcements:
PT Payback is cancelled today. We welcome Mr. Olenski to help with this until Dec. 17th! We're so pleased to have you!