November is Indigenous Awareness Month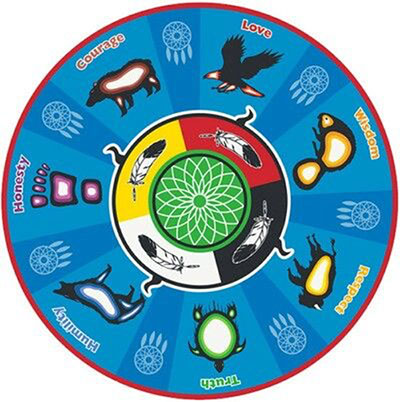 The 7 Grandfather Teachings
The Seven Grandfather teachings are a set of 
Anishinaabe 

guiding principles passed down from generation to generation to guide the Anishinaabe in living a good life in peace and without conflict.
Over the next few days, we will explore them in more depth.
---
Yesterday's Quizzle: (From Erben P in Mrs. Noventa's Grade 8 Class)
What do you call something with no body and no nose?
Answer: Nobody Knows! (Get it no body no nose)
This was laugh out loud good Erben!
Today's Quizzle: (From Will in Mrs. Noventa's Grade 8 Class)
(You need to know a little french for this one… ask our French teachers for a hint. They are Mlle. Habashy, Mme. Filice and Mme Stewart.)
Why don't french people eat 2 eggs?
Just a note about Quizzles – Keep those riddles coming! While jokes are fun, they aren't riddles…
From Mrs. Johnston in the Library…
Check out this new book!
Picture Book: Speak Up by Miranda Paul, Illustrated by Ebony Glen
Student Announcements:
Congratulations to Megan Centeno (Gr. 8 Mrs. Mills' Class) and Lilian Nadhim (Gr. 5 Mrs. Cobb's Class) whose artistic submissions to last year's
Keeping Christ in Christmas Contest

were selected to be published on the HCDSB Christmas Cards this year!
Go the Board Website hcdsb.org for more details! Information about buying Christmas cards and entering the contest can be found in the Feature Stories.
Volleyball News:
There will be a tryout for intermediate girls in Gr. 7-8 in the gym at lunch.
Congratulations to the following students who made the Intermediate Boys' Volleyball Team! We know you'll conduct yourselves with kindness, dignity, equity, and respect both on and off the volleyball court!
Jonah Allen
John Bozikovic
Kain Downey
Carlos Arce
Joseph Zaia
Christopher Fonte
Will Clarmo
George Eskarous
Paul Demian
Erben Prime
Luc Perri
Adam Bertovic
Isaak Battiston
Nathan Rodrigues
Boys, you have a practice after school today.
Games club has been cancelled today due to volleyball tryouts.
---
iDARE Monthly Contests!
The student iDARE committee will be holding monthly contests. We will show you an image that is designed to make you think and think deeply. Here is our November contest image.
Submit a response to our Google Form: https://tinyurl.com/dtjbskww The last day to submit a response is Friday! The draw will be on November 30th. Get your response submitted for a prize! Our iDARE students will be around to tell you all about them today and tomorrow.
Staff Announcements:
Ms. MacIntyre has been pulled to cover classes today. So there is no PT Payback.
There have been updates to both duty schedules, and the new schedules have been posted in the GA Team. Those whose duties have changed have been informed, though you may need to refer to the new schedules if switching duties. Thank you!